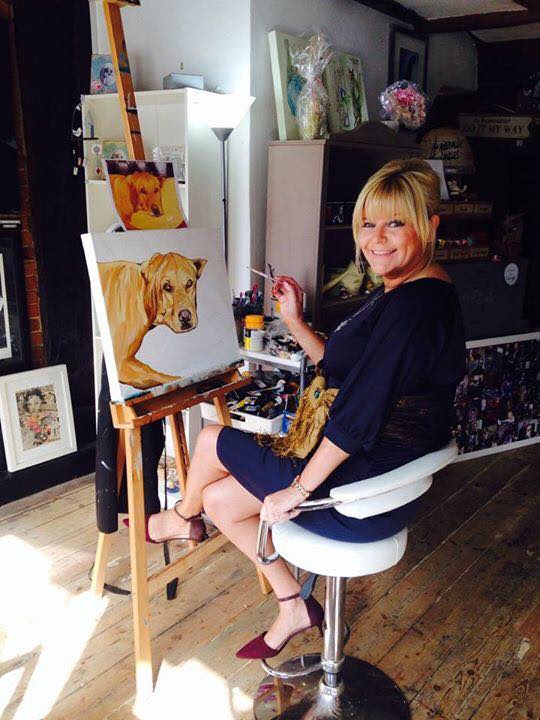 My name is Sue Verity, I'm a professional self publishing artist from Tamworth and work from a studio near Rugeley, Staffordshire. I specialise in contemporary portraiture using acrylic on canvas painted in my own unique style developed over 20 years as a full time artist.
You can view my collection of original paintings in the Gallery section many of which are available in limited edition prints, I also undertake commissions of any subject. Please feel free to contact me for further information or arrange a visit to see me in my studio.
Thank you for visiting my website!
Biography
Sue has had a passion for art from a young age, drawing murals on her bedroom wall as a child and was her favourite subject at school. Throughout her 20 year career as a hairdresser she continued to paint as a hobby and in 2002 decided to take the plunge and give up hairdressing to pursue a career in art. Sue went back to college to study Fine Art where she developed her style of painting, creating images using shapes with strong influences from the likes of Andy Warhol and David Hockney.
Sue started her art career painting murals in schools, hospitals and bedrooms to earn a living but was also experimenting with using her style of painting to create portraits. She took one of her paintings to a local gallery who asked her to create some more which become her 'Legends' collection and her first exhibition that was a huge success.
The next stage of her career started when she painted a portrait of Robert Plant and through some contacts arranged to meet him where he signed the painting. This was then auctioned for charity, the painting going to the winning bidder in Canada. This set Sue on a new path, painting stars from the world of sport, music and film and meeting the subjects for them to sign the painting. Subjects include the likes of Mike Tyson, Johnny Depp, Liam Gallagher, Gareth Bale and Wayne Rooney. Sue readily admits this is a fantastic perk of her job!
Sue's art career has gone from strength to strength over the years and although still has her studio in Tamworth where she has lived most of her life her paintings have been sold far and wide to customers around the world. She has held a number of high profile exhibitions and been in many media stories as her work continues to grow in recognition.
Her more recent work includes a collection of portraits depicting characters from the BBC's Peaky Blinders series that will form part of an exhibition to be held in 2020. One of her paintings of the character Arthur was part of a collection of 16 to win the 2019 BBC Peaky Fan Art competition used as part of their marketing campaign for Series 5, the image could be seen on billboards across the country.